HOME CURRENT EXHIBITION PREVIOUS EXHIBITIONS ARTISTS ANNEX CONTACT
Welcome to Kenneth Paul Lesko Gallery
Kenneth Paul Lesko Gallery will be closed Thursday, July 9th.
We will resume our regular hours beginning Friday, July 10th.
Kenneth Paul Lesko Gallery will resume our regular business hours (Wednesday-Saturday, 12-5pm) beginning Wednesday, May 13th. Surfaces will be sanitized daily, throughout the day, between appointments, visitors etc., and we will be practicing physical (not social) distancing of 6 or more feet. We will have hand sanitizer available in the gallery, and we will adhere to state guidelines, suggesting that staff wear face masks. It is recommended that visitors wear face masks, but it is not required.
Stop in for a visit, and enjoy Judith Brandon's spectacular solo exhibition, Surface Tension, which is on extended display in the gallery. You are also welcome to inquire about any of the 1,000+ pieces on our Previous Exhibitions page.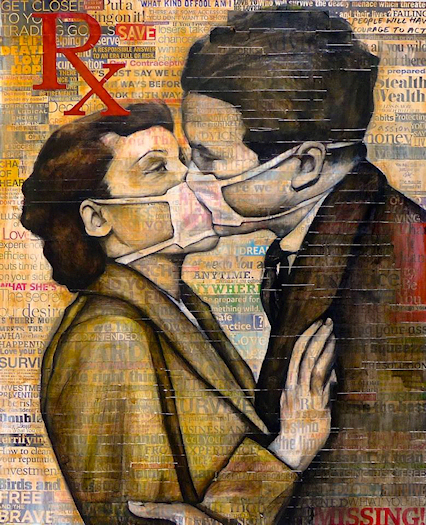 Aubrey Rhodes [Melbourne, Australia] | Trussed | Signed, Dated & Titled on Reverse
Acrylic, Charcoal & Collage on Canvas | 32 x 26 inches
Kenneth Paul Lesko has exhibited nationally since the 1970s, from Los Angeles, New York, Miami, Chicago, Dallas, Minneapolis, and many places in between. Specializing in a Modernist aesthetic, the gallery maintains a collection of contemporary art, tribal art, Japanese and American studio pottery, historical and contemporary photography, American and European paintings and sculpture, and Cleveland School paintings and sculpture.
Kenneth Paul Lesko Gallery represents the finest contemporary artists locally, nationally and internationally.*
*Cleveland; Akron; Detroit; Baltimore; New York; Chicago; Seattle; London, UK; Melbourne, Australia; Bauru, Brazil
Current Exhibition:
Gallery Hours:
Wednesday-Saturday: 12-5pm
and by appointment
Kenneth Paul Lesko Gallery
1305 West 80th Street
Cleveland, OH 44102
216.631.6719
HOME | CURRENT EXHIBITION | PREVIOUS EXHIBITIONS | ARTISTS | ANNEX | CONTACT